It's been a busy week in a lot of ways — I've had family in town, I've been catching up on sleep and email and work — but it's been a slow week for crafting and other blog-worthy endeavors. It seemed like the right time for a short post on an old project.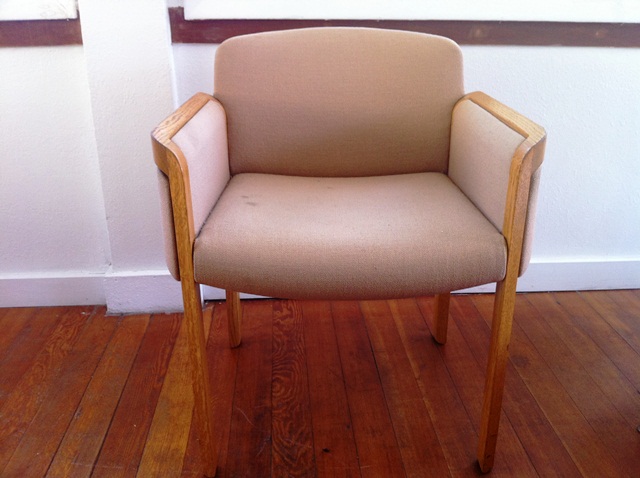 A few years ago I bought a pair of these pink armchairs for $10 apiece at a thrift shop. Like a lot of my favorite chairs, they probably lived in a waiting room once. They are remarkably comfortable. One of the chairs had a few small holes in the upholstery, and the blond stain on the wooden frames had some scratches and discoloration. As you can see in the photo above, the fabric doesn't look super clean and fresh, but it's pretty minor stuff.
Fast forward several years, and I finally got around to reupholstering them… well, one of them. It was kind of a big project–the chairs are held together with screws, nails and staples, of course, but also a lot of glue. The back piece is sewn at the top, on a curve, and it took some doing to get a nice, snug fit over the padding and batting. I'm not going to point out the mistakes to you, and you don't get any extra credit for reporting them back to me, so let's just overlook them.
They used to be nearly-identical twins. Here they are now, my fraternal twin armchairs: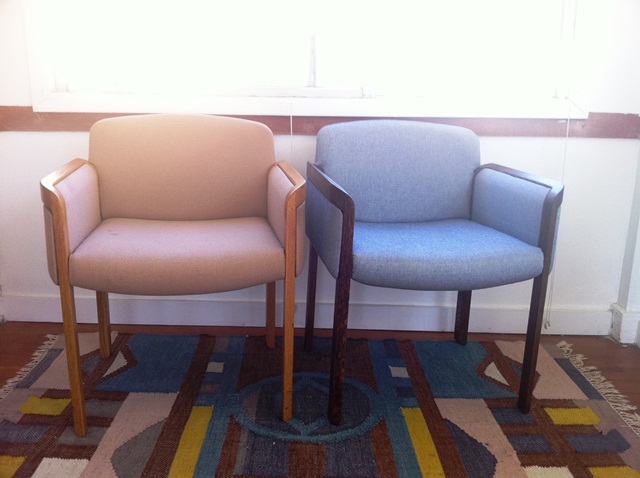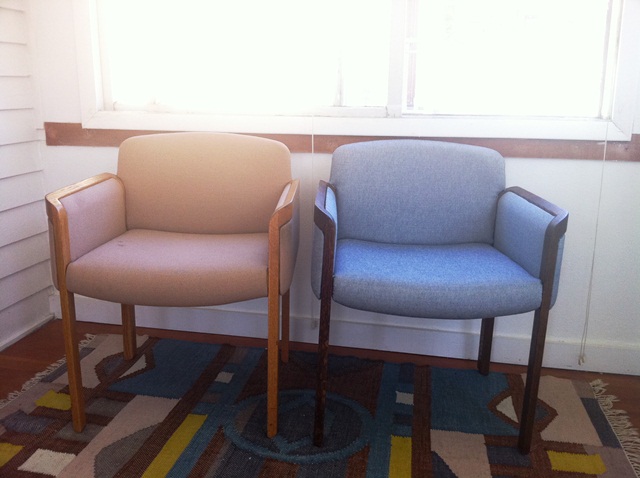 If you were wondering: that's denim upholstery, though we turned the denim inside-out. In person, it looks really silvery and the grain is really prominent, which I love. And yes, we sanded the frames and stained the blond wood a rich walnut. It's a little hard to see on these photos, but the dark stain not only hides any traces of years of grimy waiting-room hands, but also brings out the pattern in the wood grain in a really gorgeous way. And you know how I feel about wood grain.
Of course, I'd like to get around to the other one sometime soon. For now, the pink one lives on the porch while the blue one hangs out in the living room. Here are some photos of the "new" chair in situ: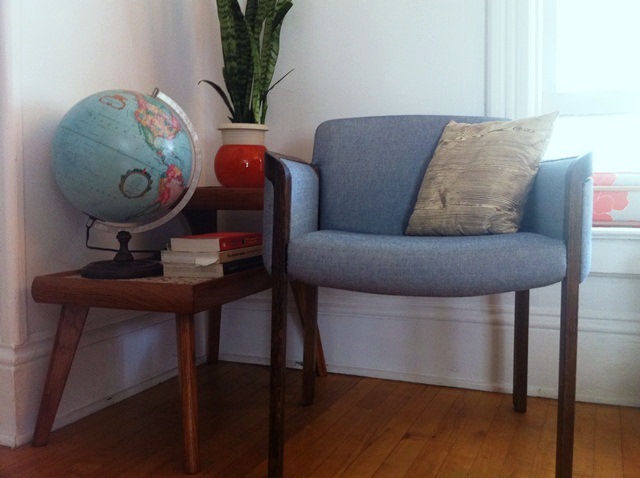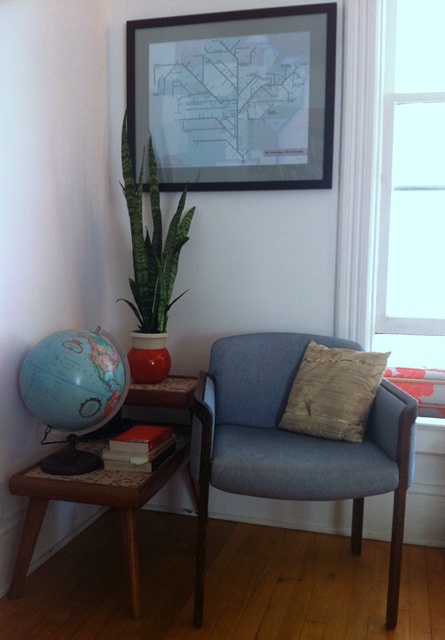 That also gives me a chance to show off our print of Daniel Huffman's subway-style map of the Mississippi river system. Love that map.