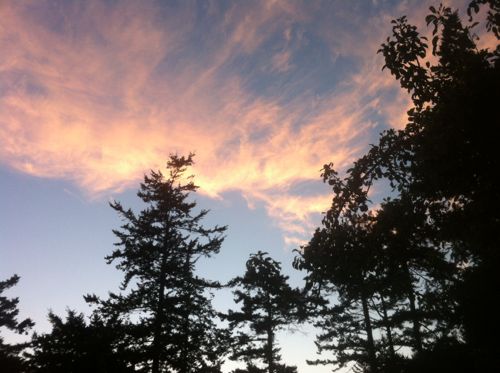 Hi everybody. It's been a busy, busy summer around here! Now that summer is winding down, I'm super excited to share some of the projects that have been keeping me busy over the past few months.
In August I got a new food processor. Back in Madison, we had two — one was older, a totally decent hand-me-down that worked well but was just a little small for our needs; the other was newer and bigger but it just never worked that well with large quantities, so we ended up using it for small batches anyway. We sold one and donated the other when we moved, which had left me making falafel with a mortar+pestle for several months after we moved in here. Actually, that is a pretty good way to make falafel (here's my recipe). But it certainly left a food-processor-shaped hole in my heart.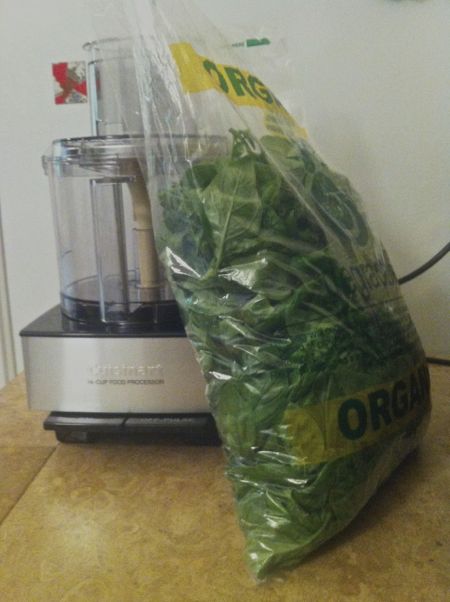 The new food processor is a beauty. We sprung for a 14-cup Cusinart that we had heard great things about. We knew it would be a step up, but we didn't know how big that step would be. I've been super impressed with this food processor. It's relatively quiet, it's fast, and it can actually handle large batches with ease. Maybe someday I'll have the kind of blog where people pay me to make statements like that, but for this food processor, I'm happy to say it for free. It's good.
Because it's so good, I've been using it like crazy. Here's the first thing we did when we got it:
Basil/Walnut Pesto (my dad's recipe)
4 C. basil
1-1/2 C. parmesan
1/2 C. walnuts
2 cloves garlic
1/2 tsp. salt
1/2 C. olive oil
We had tons of basil from the farm where Ben works, so we made about four batches of this (two at a time, in our big new machine) and experimented with the order of the ingredients. I was happiest with walnuts->basil->garlic->salt->oil->cheese, but there's really no way to mess this up.
Some people prefer to leave the cheese out until you're ready to eat it. We decided just to put everything together, which filled six or seven half-pint jars. We ate some with rice crackers, and froze the rest.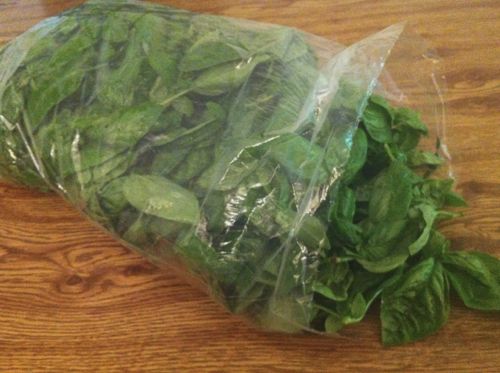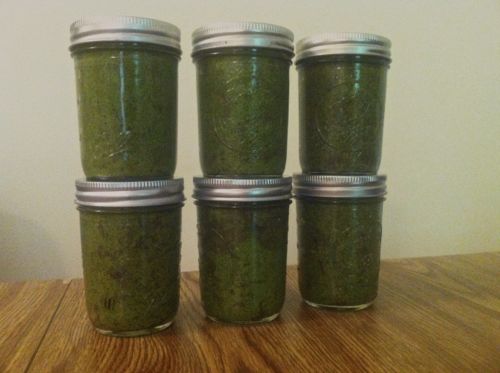 I love having frozen pesto on hand. It's the easiest instant meal around, and maybe the best way to preserve the fresh summery taste of basil.
Next week: Hummus and tahini from scratch + my first jams!